Bucket Design and Construction
Using the latest in computer aided design Ramsey Company has developed a revolutionary new bucket design with vast improvements on an age old concept. One of the most dynamic improvements is a cover over most of the bucket. When the buckets gets full it quits digging. The material inside pushes against the cover and lifts the cutting edges and teeth out of the material being mined. With the teeth and cutting edges not burning through the material constantly, the wear is greatly reduced. When the bucket gets full it will pull easier and help reduce line wear and fuel consumption. The cover on the Ramsey Company bucket provides tremendous strength by supporting the sides along the perimeter of the bucket. The two cutting edges also provide rigidity to the front and rear of the bucket.
The cover will sheer water over the top which helps to contain the fines. Ramsey Company buckets do not continuously dig and spill material over the back. The material that fills the bucket is the material that ends up on the bank. The material pressing into the bucket forces water out the holes resulting in a dryer product on the bank.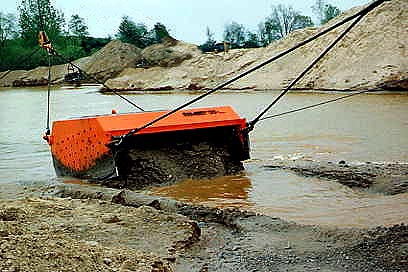 Ramsey Company buckets are designed to pull as easily as possible. The sides are smooth to reduce drag both in the water and in the trench. Our buckets are narrower at the back than the front to cut a kerf similar to the teeth on a saw blade. Ramsey Company buckets are longer that they are wide. This makes the bucket track well so it is not binding in the trench. The longer narrower design also reduces the tendency of the bucket to walk on the front corners.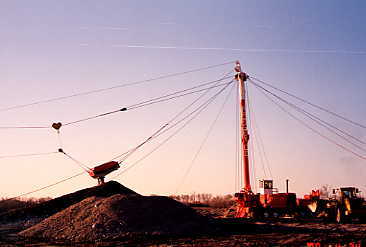 All Ramsey Company buckets are fabricated using top quality Scandia steel. The cutting edges are Scandia Steel's Hardox 500, with a hardness of 500 Brinell. The side plates are Hardox 400, topping 400 on the Brinell scale. No need to worry about the steel "work hardening". This steel is delivered ready to work in all materials. Being fabricated from readily available material and the lack of compound angles and curves makes the Ramsey Company buckets easy to repair and rebuild.
Ramsey Company buckets are constructed using Caterpillar teeth and adapters as standard equipment. Other manufacturers ground engaging tools and components can be used on customers request.